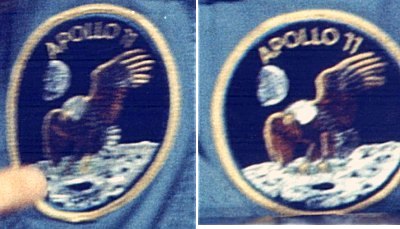 There are excellent photos that show the Apollo 11 crew in the mobile quarantine facility after the flight with an embroidered mission patch attached to their blue flight suits.
The patches are identifiable from these photos (e.g. in KSC-69PC-429 shown to the right) as being the so-called Biological Isolation Garment (or BIG) patch design.
Things get a little puzzling, however, when you look at closely at photos of the crew wearing the famous Biological Isolation Garments.
If you look at the detail on the left of the crew stepping out of the recovery helicopter onto the deck of the U.S.S. Hornet on their way to the mobile quarantine facility there is in fact no mission patch to be seen.
Where you might expect the patch to be there is just a plain dark circle.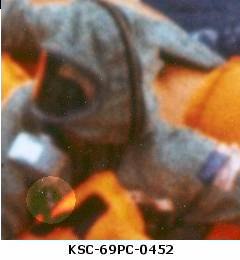 Luckily, the story of what happened to the mysterious BIG patches is recounted by Buzz Aldrin himself in "Return to Earth" - "Just before we left the helicopter we ripped the Apollo 11 insignias off the isolation garments and handed them to the helicopter's crew. It was spontaneous and a way of saying thanks".
The dark patches on the BIGs in the photo above are actually circles of velcro, to which the mission patches were attached.
In one of the photos of the crew wearing the Biological Isolation Garments in the recovery dinghy before they boarded the helicopter it's just about possible to make out the mission patch in place on the Biological Isolation Garments of one of the crew members.