Between 1969 and 1972, Grumman produced a series of insignias for their Lunar Modules which were distributed in limited quantities to their employees in the form of decals and prints. Sadly these wonderful period designs were never produced as embroidered patches.
I've set out to rectify this by producing runs of these 'lost' patches, with my intent being to stick as closely as possible to the period style of the original decal artwork rather than to try to update the designs with more colors, fill, or flashy detail. The patches are designed to have a vintage look, using partially-embroidered designs on twill backing cloth in some cases, and using vintage-style stitching patterns for the backgrounds on the fully-embroidered designs.
Pictured on the left is the full set of 9 Grumman LM embroidered patches based on the decals for spacecraft LM4 through to LM12.
Note that I consider this set of patches to be distinct from the LM-1 or LM-3 replica patches detailed above, since those embroidered designs were never part of the sets of decals produced at Grumman's Bethpage plant by the teams working on the Lunar Modules.
The origin of an LM insignia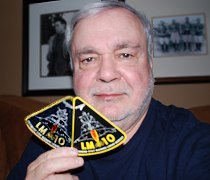 Although sadly we don't know the origin of most of these Lunar Module insignia designs we do know the background of the LM-10 artwork.
Pictured right is Ray Eschert, who came up with the design of the original LM-10 insignia back in 1969 whilst working as the LM-10 Space Craft Assembly & Test Team Administrator at Grumman's Bethpage, Long Island, NY site.
You can read the story of Ray's time at Grumman, and the background to the production of the LM decals, in this short article: The Story Behind the Grumman LM-10 Insignia