Identifying a crew patch for Apollo 1 and Apollo 7 is pretty straightforward, but Apollo 8 is a different story.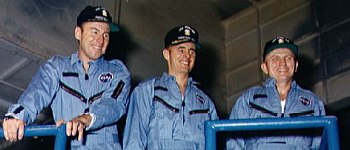 When they arrived on the U.S.S. Yorktown following recovery the crew were wearing betacloth flightsuits with betacloth patches.
They later changed into blue jumpsuits but, as can been seen in the photo on the right, these did not have an embroidered mission patch attached.
Since the crew did not wear an embroidered patch before, during or immediately after the flight there is effectively no embroidered patch that qualifies as a Crew Patch for Apollo 8. The closest we can get is a rare style of embroidered patch which was used in most official NASA presentations created at the time and examples of which were also flown on the mission. I refer to this patch as the Apollo 8 Crew Souvenir Patch.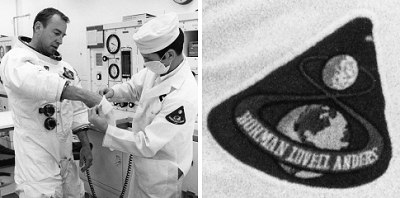 This particular version of the Apollo 8 patch was worn by some of the technicians on their coveralls during the pre- flight suit-up operations, as can be seen in the photo on the right.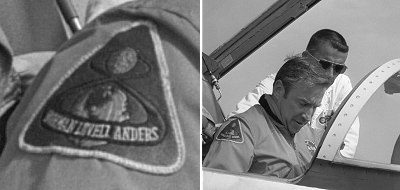 It's also worth noting that James Lovell wore this particular version of the Apollo 8 patch in 1970 on his flight suit whilst in training for the Apollo 13 mission.
The distinctive segmented thread pattern on the seas is clearly visible in the photo (70-H-472) shown here.