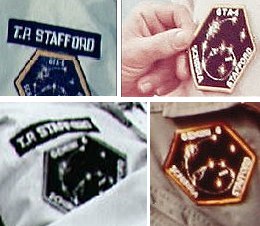 Two different versions of the Gemini 6 crew patch were created, reflecting the change in the objective of the mission itself.
The original GTA-6 version (shown in the top images on the right), showed the Gemini 6 spacecraft performing a rendezvous with an Agena target vehicle but when the Agena launch failed the Gemini 6 mission had to be rethought.
When the mission was finally launched with the modified objective of performing a rendezvous with Gemini 7 a new modified patch design was used (shown in the lower images on the right) with the Agena replaced by the Gemini 7 spacecraft.