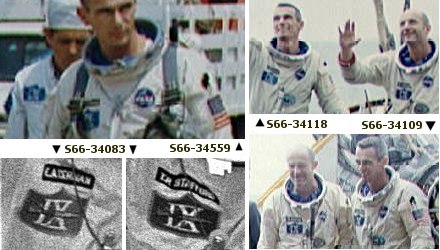 The Gemini 9 embroidered patch, as seen in these details from various photos, shows the Gemini spacecraft in rendezvous with an Agena target vehicle and an astronaut performing an EVA.
It can be clearly seen that the crew (and support staff) wore the patches without the name tab.
During training for the Apollo 10 mission, however, Stafford wore the complete version with the name tab alongside a Gemini 6 crew patch on his flight suit, as can be seen in the photo on the right taken from the LIFE magazine archives.