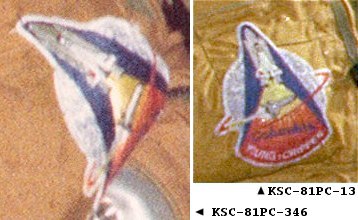 During the launch of the maiden flight of the Space Shuttle the crew wore USAF high-altitude escape suits with an embroidered mission patch attached.
The closeup images on the right show the details of the patch taken from a couple of different photos. On the left is the patch on Crippen's suit during suiting-up just before the actual launch. On the right is a clearer image showing the patch on Young's suit during a pre-flight training exercise.
This patch design is known as the STS-1 Crew Patch.