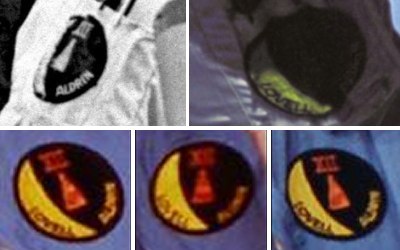 The Gemini 12 embroidered patch is clearly visible on Aldrin's spacesuit in the detail from S66-59940 shown on the left.
The patch is also visible in the shot of Buzz Aldrin's EVA shown in S66-62782 (right).
The images at the bottom are details from photos taken of the crew post-flight (from the LIFE archives), and clearly show the distinctive colors of the crew patch.
The actual patch worn by Buzz Aldrin on his spacesuit during the Gemini 12 mission along with the nametag and US flag patches from his suit, was original sold at the Superior Spring 1995 auction for $2,300 then resold via Heritage Auctions at their spring 2008 space auction on March 25, for just under $30,000 [2].